Our "Learn and Grow project" has been a fantastic learning and confidence building opportunity for   older pupils with a learning disability and provides a great opportunity to raise their self-esteem. We have had a fantastic time working in our outdoor learning...
The Kingswood Trust Newsletter
Join The Kingswood Trust Newsletter for the latest news and events information, including special offers.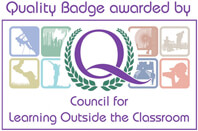 Assistance Dogs are welcome at The Kingswood Trust.
The Kingswood Trust is wheelchair friendly. All buildings are on one level and the majority of the grounds can be accessed with a wheelchair. Wheelchair accessible toilets are also available.