Corporate Volunteering for The Kingswood Trust really matters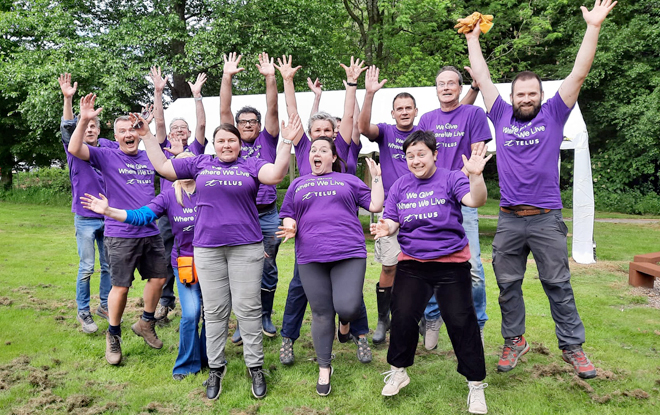 Everyone at TELUS International (U.K.) Ltd look forward with anticipation as the Summer approaches and our annual TELUS Days of Giving arrives. Come rain, but more often shine, there is always plenty of work to do to suit the needs, interests, and skill levels of all. In true TELUS International style, everyone (young and not so young), get stuck in with digging, painting, woodland management, fence building, trail making, gardening, construction projects and much more. When the work is done and the sun starts to set, our team relax and enjoy some food and music and look back on a day well spent helping others.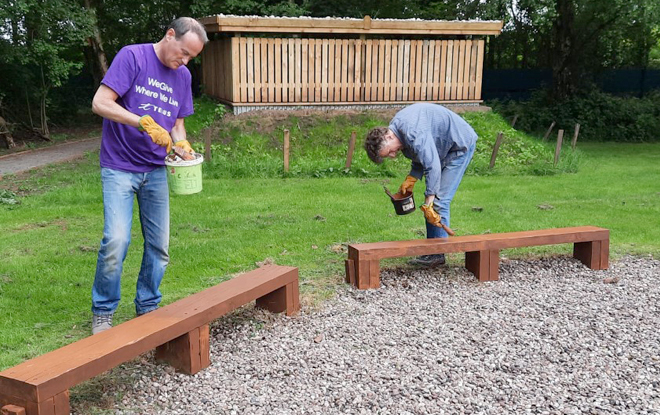 At TELUS International we understand the relationship between the success of our company and the well-being of the communities where we live, work, and serve. We know that our team members want to be part of something bigger and when given the opportunity to make a meaningful difference in their community, our proud team members reward us with their ongoing commitment and loyalty.
Some might ask why we choose to give up a Saturday that we could be spending at home. Well, it's quite simple really- we believe that Kingswood Trust is worth it, their people are aligned with our company values and culture. It's a well-regarded charity supporting people in its community, some of whom have low incomes and limited support networks. We recognise too that the Pandemic hasn't helped, as some people have become more disconnected from the outdoor world and have lost confidence. The projects run by the Trust are about breaking down barriers and improving access for everyone. As a business who can help, TELUS International are keen to offer time and some resources as part of our TELUS Days of Giving programme to maintain and further develop the wonderful environments for children and their families.
We have supported Kingswood Trust now for over 12 years and we also recognise that volunteering and making a positive contribution helps to bring people together and to build relationships across all levels in our team which operates across the globe. Staff wellbeing is part of our caring culture, a priority for us, so what could be better than having fun outdoors in the natural environment together as most staff work, day to day indoors and often at a computer. For some, the practical work is a new experience, and this can be very rewarding too. For every act of kindness, we build a friendlier future.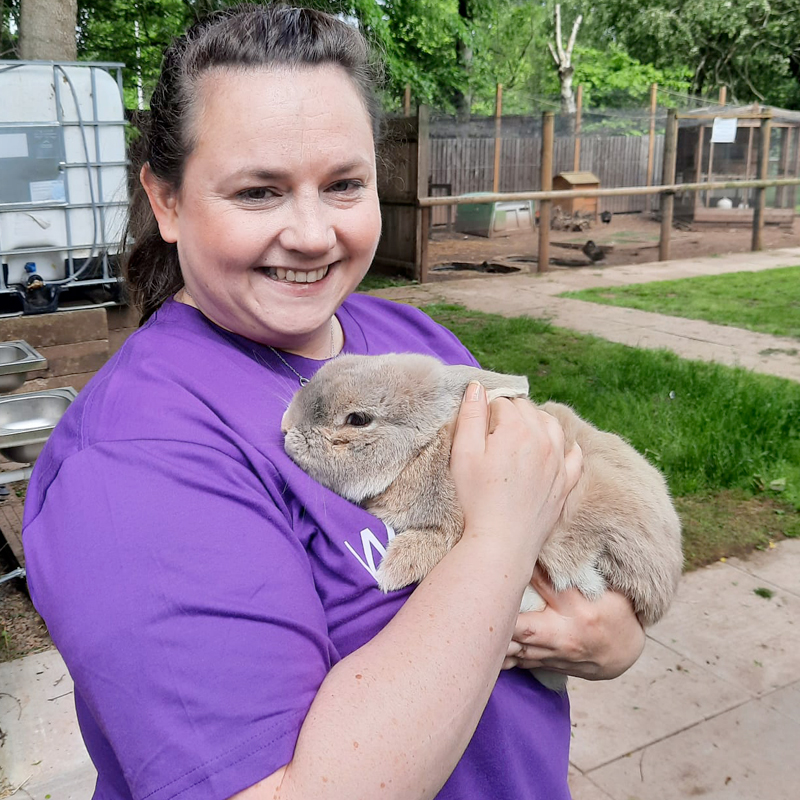 The Kingswood Trust team is dedicated and passionate about what they do and are truly invested with making it a place that significantly helps others which in turn supports the community enabling better outcomes for people, we at TELUS are truly proud to be part of their team. For me personally, the enduring partnership with Kingswood Trust has had a positive and lasting impact and enabled me to contribute to my community and educated me as to how important a facility such as Kingswood Trust is for the development of young people.
We'd urge other businesses to get involved with the Kingswood Trust where they can. It will support many Corporate Social Responsibility aspects for the company but will also be rewarding and great fun.
#WeGiveWhereWeLive
Grant Kearns, Director, TELUS International (U.K.) Ltd.
Monday: 8:30am - 4:30pm
Tuesday: 8:00am - 4:00pm
Wednesday: 8:30am - 4:30pm
Thursday: 8:00am - 4:00pm
Friday: 8:00am - 4:00pm
Weekends: Vary by event

For group bookings and stays contact The Kingswood Trust directly to arrange or call us direct on 01902 558132.
We hold many fun events all year round. To see our latest events and book your place simply go to our eventbrite page.



Assistance Dogs are welcome at The Kingswood Trust.
The Kingswood Trust is wheelchair friendly. All buildings are on one level and the majority of the grounds can be accessed with a wheelchair. Wheelchair accessible toilets are also available.