How many leaves are there on a tree?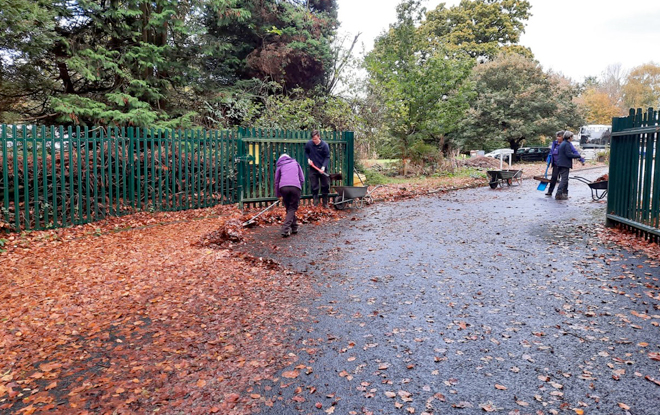 This was just one of the many random questions that we discussed as we swept and collected the fallen leaves over several weeks. Each week we thought that we'd finished, but more magically materialised.
Anyone who thinks that winter is jobless should come to Kingswood Trust. Work has continued at pace. Along with general tidying and leaf removal, the pond has been cleared of the invasive New Zealand pigmyweed. There was much hilarity as volunteers became stuck in the gloopy mud. A new pond was dug alongside the original one…yet more sticky, gloopy mess. Both ponds were then lined with some donated, highly unfashionable, multi-coloured carpet before the enormous liners were unrolled and dragged into position… yet more laughs.
Indoors, equally important tasks of putting together packs for school groups, filing and cleaning of the bug hotels have been taking place.
There's something for everyone to do here!
And the answer to the question, "How many leaves are there on a tree?" … we decided, LOTS!
Jenny Short, Volunteer

Monday: 8:30am - 4:30pm
Tuesday: 8:00am - 4:00pm
Wednesday: 8:30am - 4:30pm
Thursday: 8:00am - 4:00pm
Friday: 8:00am - 4:00pm
Weekends: Vary by event

For group bookings and stays contact The Kingswood Trust directly to arrange or call us direct on 01902 558132.
We hold many fun events all year round. To see our latest events and book your place simply go to our eventbrite page.



Assistance Dogs are welcome at The Kingswood Trust.
The Kingswood Trust is wheelchair friendly. All buildings are on one level and the majority of the grounds can be accessed with a wheelchair. Wheelchair accessible toilets are also available.