Older People to Enjoy the Benefits of Nature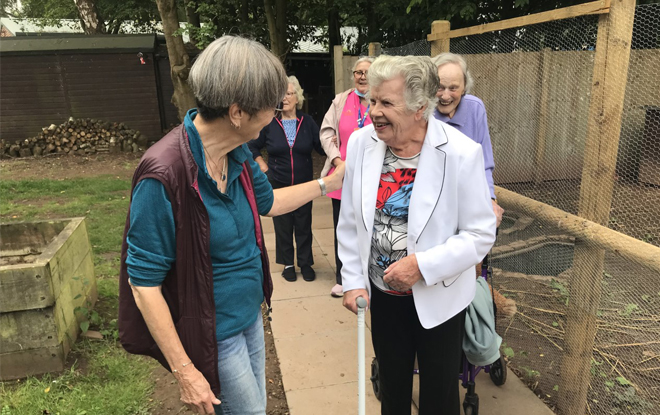 Thanks to a £10,700 grant from Postcode Community Trust, a grant-giving charity funded entirely by players of People's Postcode Lottery, earlier this year, Kingswood Trust can now provide a range of nature based activities both outdoors and indoors for older people.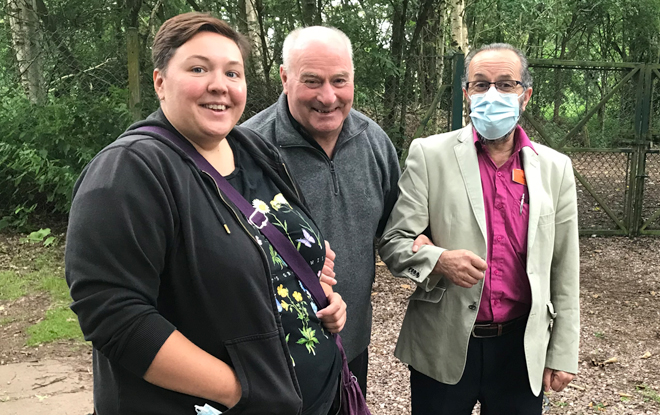 We are inviting groups focusing on older people to take part in this funded project which seeks to combat loneliness, improve health and wellbeing and reconnect people with each other. This group might be from an organisation that supports older people, a local community group or a care home.
A visit here is bespoke to the group and such days can include a walks following set trails to incorporate features such as the old gate posts and willow structures. We may even have a campfire to sit round for discussion and reflection times as well as for outdoor cooking. These offer opportunities to meet others though going for a walk, joining in an outdoor activity, and in indoor activities such as crafts and music from other eras.
We have many old photos and artefacts to show people and plenty of ways to look at different decades of the way we were, such as jobs and occupations, clothing, tools and pastimes.
As part of their visit, we also provide participants with a free drink and cake.
Kingswood Trust is a countryside location right on the doorstep of many local communities in South Staffordshire, Wolverhampton and Shropshire. Our aim is to get people relaxing in our nature spaces, to enjoy the fresh air, the seasons and to feel happy. Our secure, nine-acre site is accessible and self-contained.
We hold the dementia friendly badge and offer bespoke visits to organisations, care homes and charities that support older people.
Dementia is an umbrella term used to describe a range of progressive neurological disorders, conditions that affect the brain. It can affect people in different ways, the impact can be physical, emotional and psychological and symptoms include memory loss, confusion, mood changes and having difficulty with day to day tasks. Around 850,000 people have dementia in the UK, with numbers growing. Nearly half the UK population has either a family member or friend with the condition.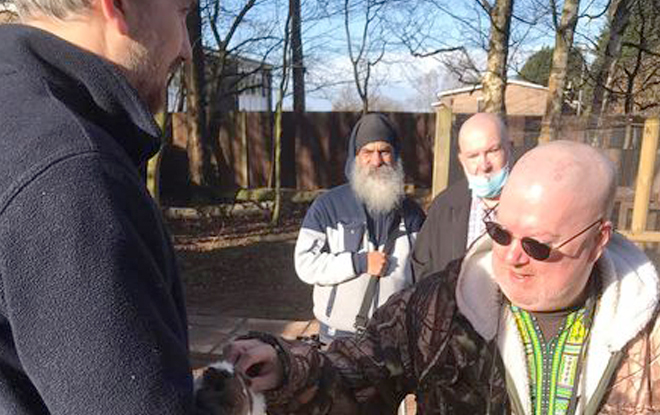 Our Nature Connections project helps to address these issues and enhances the lives of older people through physical activity, social interaction and opportunities to observe and interact with nature.
Chair of the Trust Board, David Harris said,
'Already we have seen many older people regain a sense of confidence from these activities. Our volunteers here with many years' experience at Kingswood Trust lead nature walks and show visitors different plants in the garden, places of historical interest and answer any questions they may have.'
He added,
'Carers accompanying the group benefited from the experience too as they were supported by staff and volunteers.'
Over the summer and into the autumn of 2021, several groups have taken up the opportunity to come for a bespoke visit to Kingswood Trust for Nature Connections. These were organised groups supporting older people who arrived in their own provided transport and helped by their carers. Without exception, every one of them enjoyed the experience and found value in being at a place where they could relax outdoors, go for a short walk, see the animals, meet new people and be a part of nature.
Our bespoke days provided many opportunities for dementia sufferers to be able enjoy conversation again as different aspects such as the herb garden, air raid shelter and meeting our animals seemed to stimulate memory. For some it was enough just to be able to be outdoors.
Written by: Helen Heywood, Community Engagement Officer, The Kingswood Trust.
Monday: 8:30am - 4:30pm
Tuesday: 8:00am - 4:00pm
Wednesday: 8:30am - 4:30pm
Thursday: 8:00am - 4:00pm
Friday: 8:00am - 4:00pm
Weekends: Vary by event

For group bookings and stays contact The Kingswood Trust directly to arrange or call us direct on 01902 558132.
We hold many fun events all year round. To see our latest events and book your place simply go to our eventbrite page.



Assistance Dogs are welcome at The Kingswood Trust.
The Kingswood Trust is wheelchair friendly. All buildings are on one level and the majority of the grounds can be accessed with a wheelchair. Wheelchair accessible toilets are also available.