Nature connects and reunites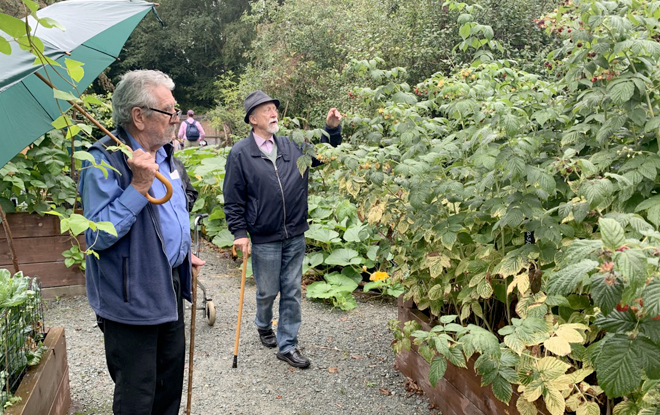 During lockdown, many older people lost confidence in leaving their own home, even popping to the shops was an ordeal for some.
The lockdown for so many elderly people has become the new normal, as a home care provider, we still see that our clients struggle and make excuses not to leave their own home.
Kingswood Trust has become a great asset, so much so, we have managed to bring clients and people from the local community together and gain their confidence back in a controlled and safe environment.
Whilst they have been dubious before visiting Kingswood Trust, once there, you can see the uncertainty lift and the confidence is back. It truly is remarkable; Kingswood Trust is certainly a magical place.
I can recall a Lady who attended, she had not been out of her house for over a year, I sat with her all the way on the minibus, and you could hear the tension in her voice when she spoke. I reassured her all the way that she would have a lovely time; we were the last ones to leave the minibus, she stuck by my side like glue during the welcome talk. We then ventured into the beautiful grounds, we walked and talked, others also chatted away with each other, some, complete strangers.
I stopped to take a picture and when I looked around me, the lady had gone, in a panic I looked across and there she was, talking to a group of ladies and gentlemen. I smiled, Kingswood Trust had worked her magic and she had gained her confidence. Since then, the lady has been back and is planning a visit for Christmas.
Kingswood Trust is an amazing place, the grounds, staff and volunteers are amazing, we are very fortunate to be able to visit and have such a beautiful and idyllic place on our doorstep.
Siobhan Davis, Telford Home Instead

Monday: 8:30am - 4:30pm
Tuesday: 8:00am - 4:00pm
Wednesday: 8:30am - 4:30pm
Thursday: 8:00am - 4:00pm
Friday: 8:00am - 4:00pm
Weekends: Vary by event

For group bookings and stays contact The Kingswood Trust directly to arrange or call us direct on 01902 558132.
We hold many fun events all year round. To see our latest events and book your place simply go to our eventbrite page.



Assistance Dogs are welcome at The Kingswood Trust.
The Kingswood Trust is wheelchair friendly. All buildings are on one level and the majority of the grounds can be accessed with a wheelchair. Wheelchair accessible toilets are also available.