Volunteering at Kingswood Trust
Following our official opening we are also now the proud owners of the Wolverhampton Homes Way, our new drive.
We had a great day of volunteering recently with staff from ReAssure, Telford coming over to help us with our orchard and taking part in our 'Dragon's Den'. Something a bit different to our usual indoor volunteering jobs, we decided to make the most of the brains as well as the muscle power of our 18 volunteers who helped us to get some great ideas and actions to follow up for developing our charities business. It was also lots of fun and gave us new actions to follow up for further growth.
You never know what inspiring ideas will be offered at a day of volunteering!
ReAssure have also booked a team building day with us now where they will have to opportunity to develop a wide range skills such as problem solving, communications and leadership. Exciting team group activities will include: geocaching, blind fold trails and woodland challenges all aimed at strengthening teams.
Other volunteers have been working in our garden areas, clearing out the growing beds and learning how to take plant cuttings as well as rose budding ready for next year's rose sales. Some of you may have heard about our charities special rose…"Kingswood" created by Len Scrivens. With the help of Len, Cliff and David we have budded over 100 new roses that will be for sale next year.
Our team group activities and volunteer sessions have helped us to grow the number of individual volunteers, from all walks of life and with different interests. For example:
• students seeking work experience
• parents of pupils who come on residentials and day visits
• people enjoying an active day out
• businesses
• local people wanting to give something back
At our most recent volunteer morning we had a real mix of tasks underway:
• work in the orchard
• hedge clearing
• feeding the growing areas with lots of lovely manure (we did that!)
• clearing the pond …guess what we found out…a hoard of acorns hidden by resident squirrels!
• fence repairs and painting
• preparation for our next family event
As we are entirely self-funded, we are a worthwhile cause as well as a great venue. So, a big thank you to everyone who took part in our volunteering activities.
We hope to see you again soon.
Written by: Rachel Wells, Head Teacher and Charity Manager, The Kingswood Trust.
The Kingswood Trust Newsletter
Join The Kingswood Trust Newsletter for the latest news and events information, including special offers.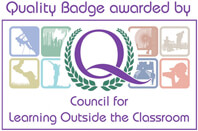 Assistance Dogs are welcome at The Kingswood Trust.
The Kingswood Trust is wheelchair friendly. All buildings are on one level and the majority of the grounds can be accessed with a wheelchair. Wheelchair accessible toilets are also available.