Family Days Out – Pumpkin Parade
Our annual Pumpkin Parade and Twilight walk was a sell out again this year with families out in force, fancy dress and carving tools at the ready. Despite a poor forecast, everyone enjoyed family fun in the forest. The evening was spent hunting for the rather large bats hanging upside down in the trees and spotting the unusual bat facts on the full moons. Children had fun outdoors… climbing the trees and playing hide and seek whilst looking for signs of autumn. Crunchy leaves, rainbow colours, conkers, acorns and fungi provided an interesting carpet for our fun activities outdoors.
The hall was full of families:grandparents, aunts and uncles, mums and dads and excited children enjoying the homemade cakes and soups, buying goodies from the shop and engaging in a range of craft activities. 3 generations all came together with a real sense of fun outdoors – laughter, sticky fingers, pumpkin mess and scary faces were all order of the evening. The costumes and face painting this year were outstanding – pumpkins, ghosts, witches, skeletons and scary monsters of all shapes and sizes enjoyed a great evening out.
As the sun started to set, everyone gathered excitedly to light the pumpkins and to begin the Twilight walk, parading their carefully and creatively carved pumpkins. We all followed the ringing bell, weaving in and out of the trees as dusk fell. The evening ended with the parade of pumpkins and three cheers for a successful night of family fun. Thank you to everyone for joining in and supporting the Kingswood Trust.
Great photos were taken throughout the event. Why not check it out our facebook page – 'The Friends of Kingswood Trust.'
There will be new family adventures coming very soon. Look out for our 2019 Family Fun Calendar next month.
In the meantime, why not book your children onto our Half Term Activity Day on 31st October 2018 from 9am – 3.30pm. There will be great opportunities to explore the great outdoors, join in fun and games, try new sports and make new friends –  for children aged 5-13 years
If you are interested in supporting our fun activities for families and other events please contact Rachel Wells at the Kingswood Trust on 01902 558132, or email: Rachel.Wells@wolverhampton.gov.uk.
Written by: Rachel Wells, Charity Manager, The Kingswood Trust.
The Kingswood Trust Newsletter
Join The Kingswood Trust Newsletter for the latest news and events information, including special offers.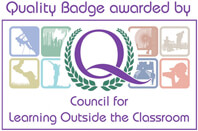 Assistance Dogs are welcome at The Kingswood Trust.
The Kingswood Trust is wheelchair friendly. All buildings are on one level and the majority of the grounds can be accessed with a wheelchair. Wheelchair accessible toilets are also available.